MEDIA
Rainbow in the Night Movie
Click Here for the Rainbow in the Night Movie ONE SHEET PDF
Click Here for the Rainbow in the Night Movie ONE SHEET PNG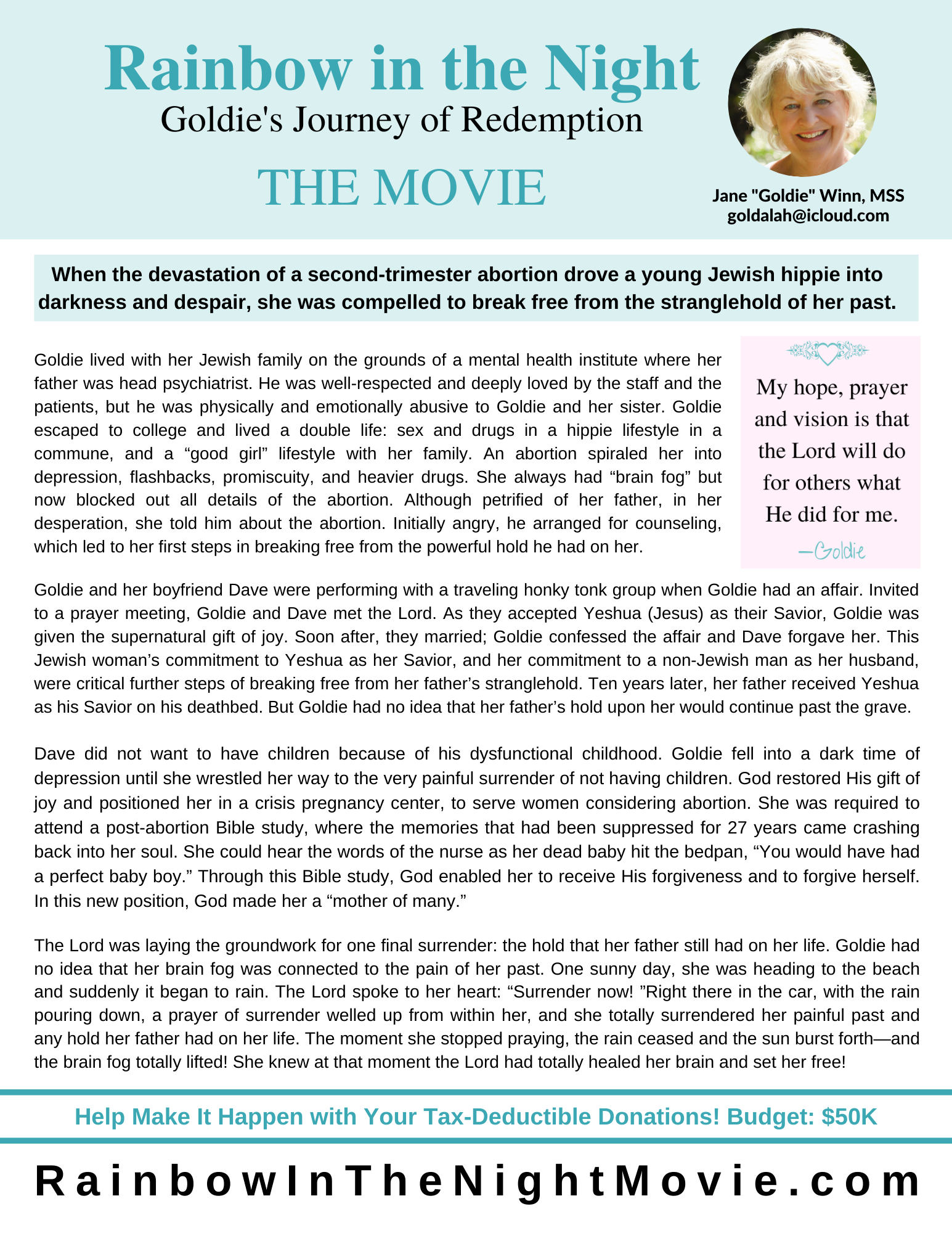 Girls Night South Florida 2022 Event: November 10, 2022
Dear Jane Goldie Winn with Rainbow in the Night: A Journey of Redemption,
We are thrilled to have you participate as one of our Platinum Sponsors for our  Girls Night South Florida 2022 Event! We are confident that your participation in this event will enhance our goal to provide a spectacular opportunity for 250 diverse and affluent women to relax, mix, mingle, and SHOP during this memorable evening. We know that you will find it to be a unique networking approach that will give you great results for your business.
As a reminder, the event is set for November 10th, 2022. Guest will begin arriving at 6:00pm and will stay through 10:00pm.  The event is being held at Pavilion Grille. The address is 301 Yamato Road, Boca Raton, FL 33431.
As a platinum sponsor, you have agreed to financially support our event. We are grateful for your contribution and know you will enjoy being a part of this event. We will be reaching out on how to submit your form of payment.
Please send me a jpg of your logo as soon as possible so that we can properly promote you based on your sponsorship level. Your level of sponsorship gets you THREE guaranteed tickets. I will need the names, phone numbers and emails of each guest to issue the tickets to them. They will get an email with their ticket in it and they will need their ticket for entry. Please make sure the girls that will be attending know that our main goal is to make sure that our amazing vendors thrive and grow their business. We want to make sure the girls who attend have the same goal.
It is optional to provide items/gifts to our custom designer swag bags. We recommend that any item you donate for the bags, you consider that they stand out and are on brand with your company and the service you provide. In the past, companies have provided samples of their products, as well as gift certificates in a beautiful presentation. Keep in mind the custom designer swag bags we will be providing are beautiful, not your average plastic bag. We would need the items/gifts by September 15th. Please let me know if you would like to contribute.
Also, if you know of any other local business that would be a great sponsor for this event, direct them to our website at www.girlsnightsouthflorida.com and have them submit the simple application. We are happy to consider them! Should you have any further questions you can contact me direct at info@girlsnightsouthflorida.com. We are so excited and grateful to be working with you in making this event our absolute best Girls Night South Florida ever!